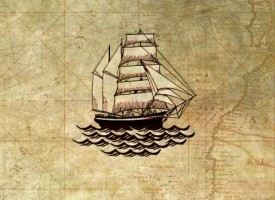 Wow, it's been a while since I've blogged. Where does the time go? No worries–I'm back–and I'm a firm believer in only blogging when you have something worthwhile to say. I suppose now is that time. So, I was thinking about business owners. I usually think about this; probably because I am one, and you never really "shut it off." The 9-5 takes on a whole new meaning when it's your business! There are many joys, trials, struggles and rewards that come with owning and operating a business. Obviously. Many unexpected and unforeseen twists and turns. Obviously. Pros and cons. But I'm sure that if you asked any business owner about it, they probably wouldn't have it any other way. The freedom and adventure is too great to quit. Once you realize that you can do it, it can be quite exhilarating and fun. The best way I can describe it is with the term navigation. As in the act of navigating a ship in an enormous ocean. You can read more about that here.
Thinking more about it, I realized that I know A LOT of people who are business owners.
Andy Baligian at Midwest Gutter Cleaning
Rob Goodfellow at ROGO Media
Todd and Bev Luhtanen at Metro Work Space and Talan SBS
Parker Whitaker at Whitaker Therapy
Bryan Sidney at B&B Outdoor Services
Nick and Jesse at Mammoth Reach
Dave Johnson at Mercury Sound and Lighting
Josh Holowicki at e2i Design
Dave and Joe at Top Dog Movers
Dennis Miranda at DME Enterprises
Bob and Justin Welker at Welker Cabinetry
Alexandra Jona at BrandBarr
Stephen Fritz at 14kt Exchange
David and Bev Merchant at NWC Print
Rachit Pasricha at Perfect Impressions
Joe Wells at Vapor, LLC
Jim Bohnwagner at Certified Home Improvement
Justin Cox at 8 Track Designs
Jeremy Lane at Memra Productions
Ron Kasperski at Oakwood Custom Homes
Debbie Diehr at Balanced Life Massage Studio
Kirk Richardson at Kirk's Auto Care
Sarah Kennedy at Edward's Cafe and Caterer
Scot Martin at Estorie Marketing
Scott Bettinger at Echo Media of Michigan
Shawn Logan of Logan Outlaw Guitar Company
Sebastian Tkaczyk at Press Web Design
Jeffrey Bennett at JLB Photography
Ruth Wisz at Clinical Reflexology
That's a pretty long list, wouldn't you say? And how about the diversity represented! Many of you are my friends. Some are clients (which I guess makes you a friend as well.)
From one (small) business owner to another, I wrote this blog with you in mind. As that one beer company would say, This Blogs For You®
I'm sure you've landed an awesome client or secured a great contract at one point. I'm sure you've built amazing working relationships. I'm also sure you've been ripped off or taken advantage of. I'm sure you've tossed and turned at night, your mind in turmoil over a certain business situation. I've sure you've experienced an amazingly profitable quarter, and an equally devastating season. It all comes with the package, I suppose. While we could no doubt swap some spectacular horror stories, I'd rather focus on the adventure aspect. As bad as it can feel at times, owning a business is pretty wonderful. So keep at it. Keep your hand to the plow. Keep navigating.
It's good to know you're not alone either. So why this blog? It's pretty simple. I just wanted to encourage you and let you know that I'm along for the ride with you. I hope that you and your business are succeeding on every level. I hope that you're hitting your stride and operating in your element. That you are learning valuable life lessons, and that your business will continue to grow and thrive.