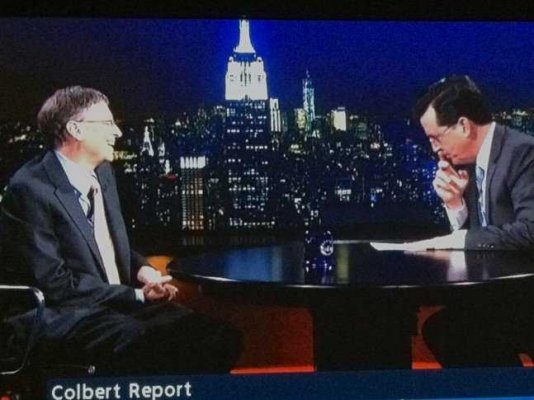 Last night I watched Bill Gates being interviewed on the Colbert Report. I was initially interested because I never really listened to Bill Gates talk before, at least not in a lengthy interview. While being loosely familiar with the Bill and Melinda Gates Foundation, I was like, "what's this guy up to these days, and does he have anything good to say?"
Of course it's always hard to have a conversation with Bill Gates without bringing in Steve Jobs.
Painting in large brush strokes here, the world always says the typical thing:
Bill Gates, geek. Steve Jobs, cool.
You know, Bill Gates has no personality, brand image, design sensibility or style…when compared to Jobs. Of course Colbert covered this little detail. Then Bill went on to discuss his travels and humanitarian work. At one point, Steven asked him what was more important, data or passion? Great question! Without hesitation, Bill said passion. It was cool to hear that response. I have to agree. Passion trumps a lot of things. I wrote about that in another blog here.
While there's no shortage of money in his bank accounts, here's a guy who we think probably has a deficiency of passion. But not true, apparently.  I mean, I usually don't associate passion with Bill Gates…I associate…well, Microsoft. In those 7 or so minutes, I found him to be humble, kind, even a bit shy. He didn't give long, drawn out ramblings, but answered all the questions to the point. He addressed Steve Job's coolness factor by saying, "He had his own style, his own approach."
As I sit here and type on a Mac, I have a new found appreciation for Mr. Gates. Keep up the good work around the world.
Here's to your approach.