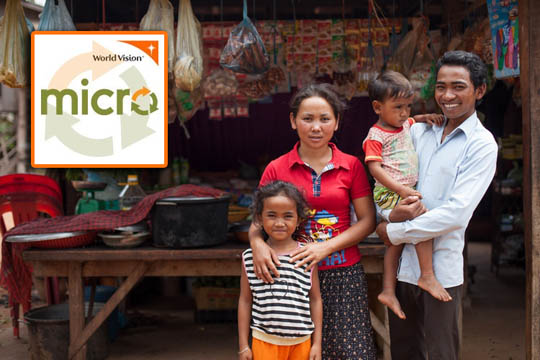 I attended a creative/arts conference last week in Chicago called Story. It was a great time with great speakers, and I walked away feeling creatively refueled. It was here that I learned about World Vision Micro. This is a creative micro loan giving process, where you are able to essentially "fund a loan" in poorer communities across our world. In doing so, you are empowering somebody to launch, build, or expand a business.
In the states, we think that we need thousands of dollars to start a business. These folks are asking for $100-$400 to get started. What a contrast. These are people who are looking to start a grocery business, a sweater-making business, a bakery, even looking to purchase animals and farming tools. Simple stuff. But it spreads…in return you are helping those communities establish businesses and jobs and daily commerce. I learned about a woman in Africa who wanted to make school uniforms for her three children. She had one sewing machine. She got a loan from Micro, and was able to purchase another sewing machine. So she hired a worker. Now she has 12 machines going full time, all making school uniforms, and she has 12 employees from her village helping her. Isn't that beautiful?
I stopped by the Micro booth at Story. I read about Maria Acatzihua, from Veracruz, Mexico. She's in the coffee business, looking for a micro loan to purchase more coffee plants. Right on! It seemed fitting for me, because I love drinking coffee so much. Coffee and creativity is what fuels Saint most of the time. It only seemed natural to go with Maria.
And here's the deal. The individual has to repay their loan back to Micro – this is not just giving someone free money. And the loan repayment rate is 98.7%
Are you a business owner who had a dream once? Have you experienced all the joys, difficulty, and fulfillment of birthing a business? Remember how you racked your brain when you thought about the daunting task of JUST GETTING STARTED?
Now's your chance to help out other hardworking entrepreneurs.
Visit www.worldvisionmicro.org, read some success stories, and meet some of the entrepreneurs. If you've been there, then I encourage you to pay it forward. Partner up with Micro.